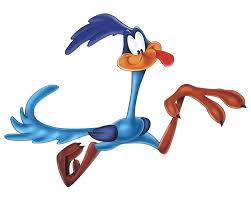 Road Runner is a Looney Tunes comics character. He first appeared in the 1949 cartoon, "Fast and Furry-ous". He says "Beep Beep!" and is frequently chased by Wile E. Coyote.
Appearances
Road Runner Titles
Other Comic Appearances
Trivia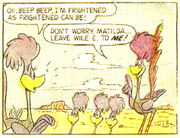 In the Dell Comics and Gold Key/Whitman Comics series called Beep Beep the Road Runner from the 1960s-1980s, Road Runner spoke in rhyme and had a wife, Matilda, and three roadrunner sons.
In the DC Comics Road Runner is just like he is in the Looney Tunes cartoons where all he ever says is "Beep Beep!"
Ad blocker interference detected!
Wikia is a free-to-use site that makes money from advertising. We have a modified experience for viewers using ad blockers

Wikia is not accessible if you've made further modifications. Remove the custom ad blocker rule(s) and the page will load as expected.