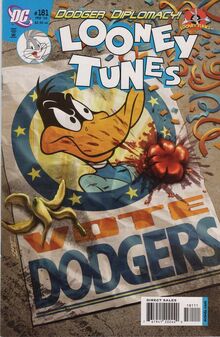 Looney Tunes (DC Comics) 181 is an issue of DC Comics' Looney Tunes series.
It's the triumphant return of Duck Dodgers in the 24 1/2 Century – and his trusty Cadet! There's a universal honey shortage! Can Duck Dodgers teach the Bees of the Bumble Bee Planet how to get bee-zy?[[Category:2010
Ad blocker interference detected!
Wikia is a free-to-use site that makes money from advertising. We have a modified experience for viewers using ad blockers

Wikia is not accessible if you've made further modifications. Remove the custom ad blocker rule(s) and the page will load as expected.